Hello lovelies,
I was at LMUF II 2 weeks ago and it was 'da bomb'.
I took soooo many pictures and just recently decided that perhaps it would be a better idea to post pictures of other scenes in an album in my FB page; and pictures of me with my readers & colleagues and products I loved seeing here on the blog.
It was a very pleasant experience for me and I look forward to more like it.
I usually do not go to events, most especially when I really have no assigned job (lol). This time however, I went for the event alongside Funke of Gifty's Daughter.
Kay of Kayge, Omon of Beautycook, Ashama of BeautyMatterz, Funke of Gifty's Daughter, Jide of StOla and Julie of Brushes & Pencils
The best part is that I went for the fair with no money at all but have goodie bags to show for it *wide grin* #abeautybloggerslife.
I know they'll be very upset with me but I can't remember the names of the first and last MUAs in this picture.
Yhewande of BeyondFaces, Tara of Taries Makeover, Funke & I (do you spy my LMUF goodie bags yet?)
I posted an Instagram video of my outfit and look which was black on blue denim, tan sandals with blue trimmings & a tan cross-body bag finished off with nude makeup and my braidout afro.
LMUF II for me was mainly a networking event. Networking with bloggers mainly, catching up with other makeup artists and putting Gifty's Daughter and myself out there. And that's what I did. I was so ecstatic when the first duo came up to me asking if I was Barbara of Barbara & 1923, asked to take a picture with me and said they loved my blog (phew, makes me know that all the times I slave in front of the computer people actually appreciate it) and then a second duo, third etc. I must say I felt like a celeb *rofl*
I apologise in advance because I can't remember all their names (please indicate in the comments below or on FB and I will caption the pictures) but here they are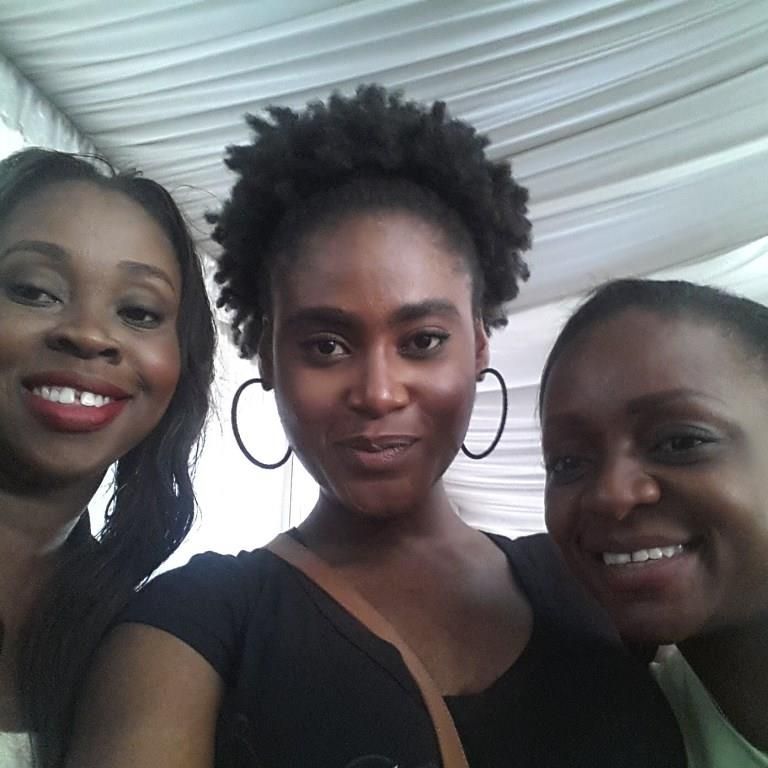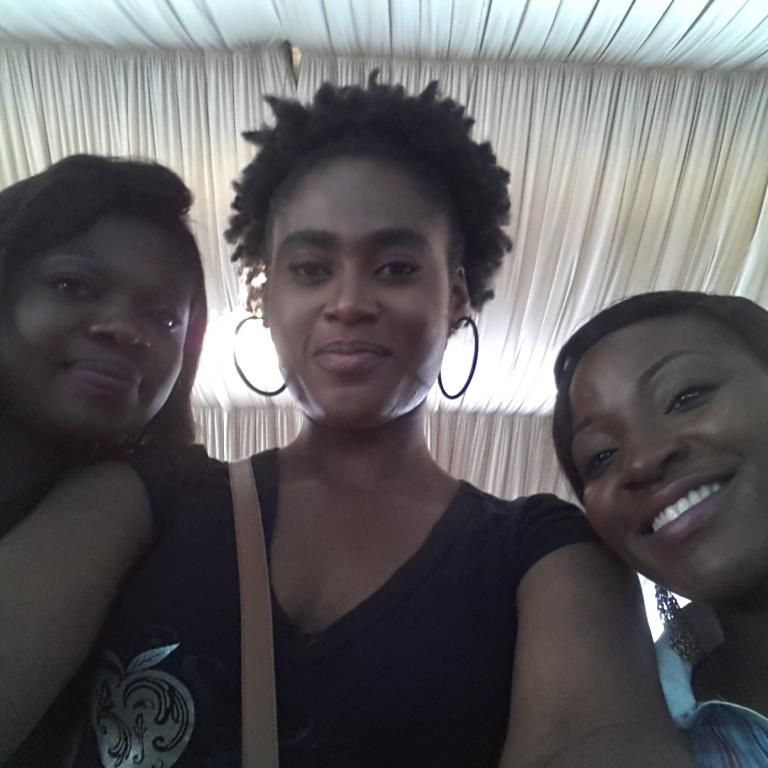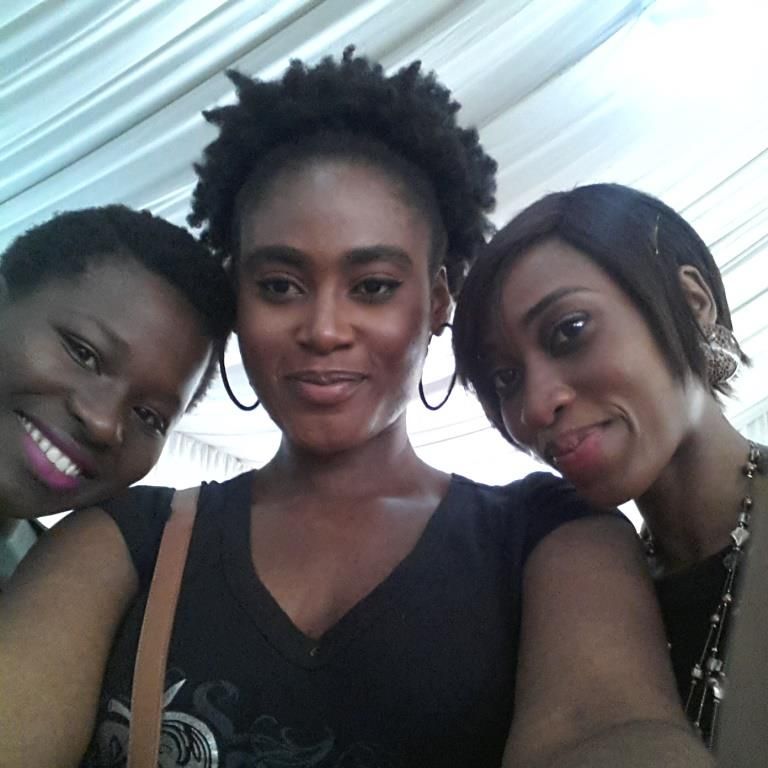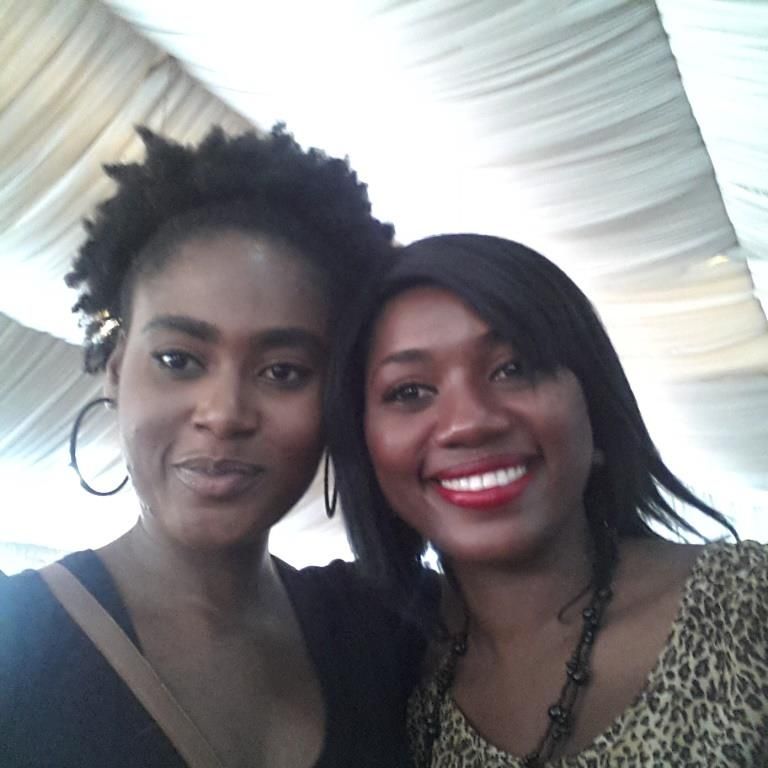 While standing aside, a familar face from ARISE Magazine Fashion Week 2012 passed by. It was Tansey Coetzee. Of course I took a picture with her.
As you must have noticed, quite a number of really good beauty bloggers have cropped up. Some of my favourites being Ez of
beautyinlagos
, Salewa of
the makeup tales
, Dimma of
thatigbochick
, Yemmie of
sisiyemmie
, Sayedero of Fashion Engineer and Yewande of she loves the finer things. Anyway, I got to meet a couple of them. Unfortunately, I was took caught up in selling the pros and cons of products, I didn't get to take pictures with them. There are pictures of us somewhere in cyber space, I am currently on the hunt for them and will share them here as soon as I find them.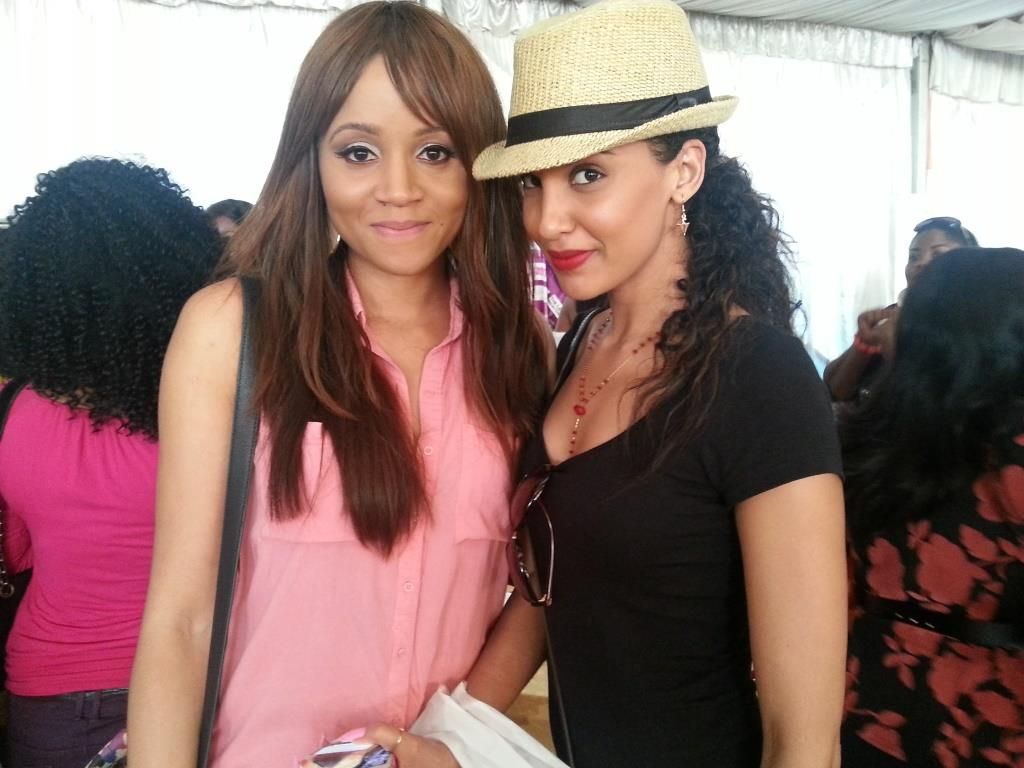 Ez and Tansey
Getting to the venue pretty early, I went round to check out who the other exhibitors were before halting at the Gifty's Daughter table; and was delighted to find that quite a number of Nigerian female beauty entrepreneurs have gone into creating their own makeup brands. I got to take pictures of them but don't have any of their products to review.
The one that really caught my eyes however, was Kuddy Cosmetics.
If you are bonafide makeup lover, living in Nigeria (and even some outside Nigeria), then you know that Kuddy Cosmetics is the number stop shop for quality makeup brands asides being the West Africa distributor of Black Opal cosmetics.
My last visit to the tradefair outlet of Kuddy Cosmetics, I saw that they had a line of eyeshadow quads and eye cream (which I got and later dumped for laziness sake). Now, they have a full line of beauty products from toners to foundations to powders, all the works. Pretty impressive I must say.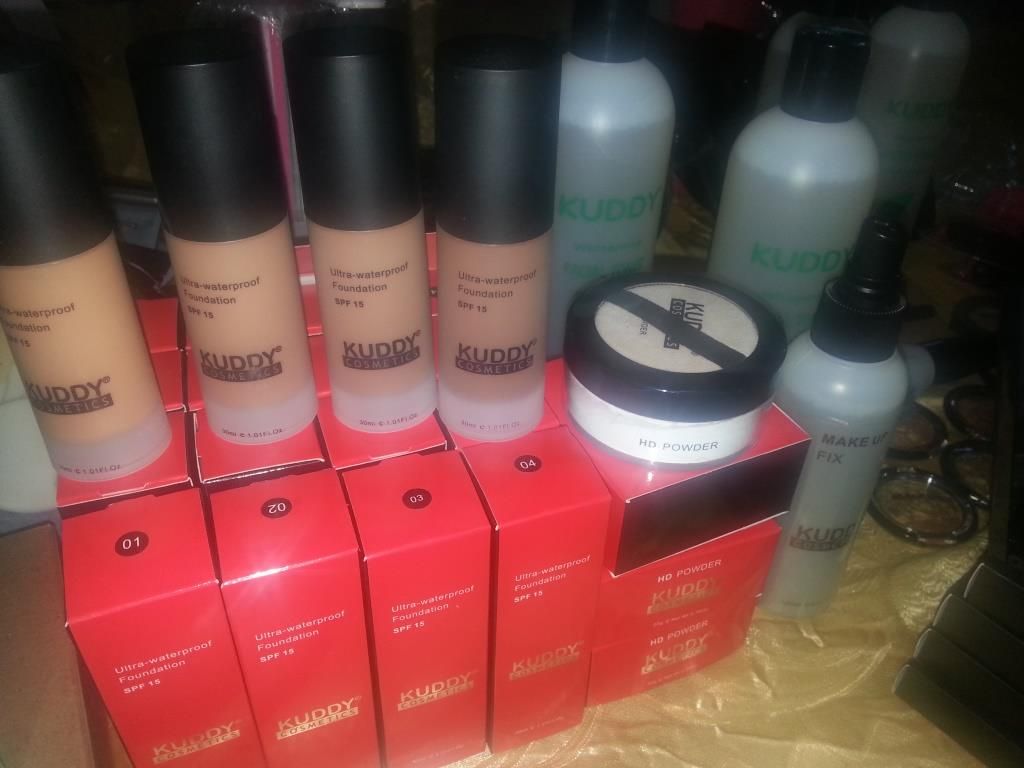 Kuddy, foundation, setting powder, makeup fix and toner (behind)
High end foreign beauty brands, first time seen in public & at the Gifty's Daughter stand were
AJ Crimson foundations - I only saw these on Instagram so when Funke said she got them when she was at TMS, I was excited. They are so creamy (butter is commonly used to refer to their consistency), I can't wait to use them for a complete look.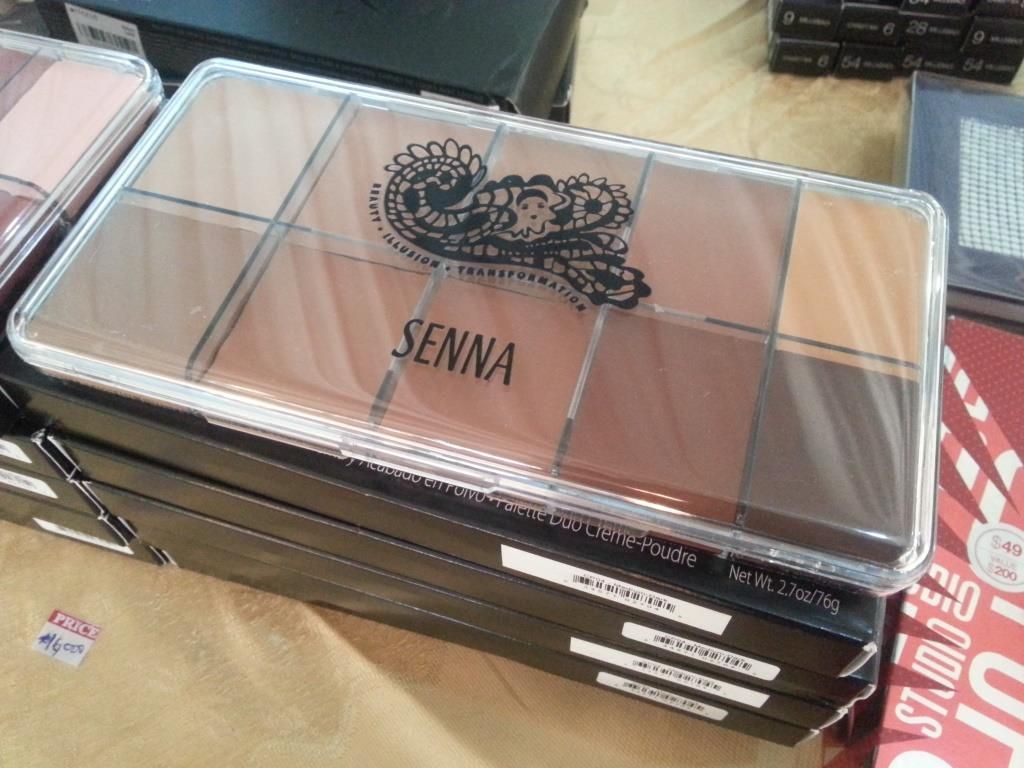 Senna Cosmetics - this is a professional makeup artist brand. This is the foundation palette. There was also the creme blush palette too. I didn't get to swatch them and so can only say from various reviews about them I have read that they are well pigmented and easy to blend.
Sam Fine for Fashion Fair collection - (not entirely new as between Stella of Stellas Addiction and I, we have reviewed the entire collection a couple months ago) first time at a fair, this is the collection released by the Creative Director of Fashion Fair - Mr. Sam Fine. I won't say much about it except head over to Stella's blog for more about it and here for my review of one of the quads.
No makeup event is complete without schmoozing with my makeup colleagues and playing with makeup
Omon and her baby, lol (don't tell her I said so o )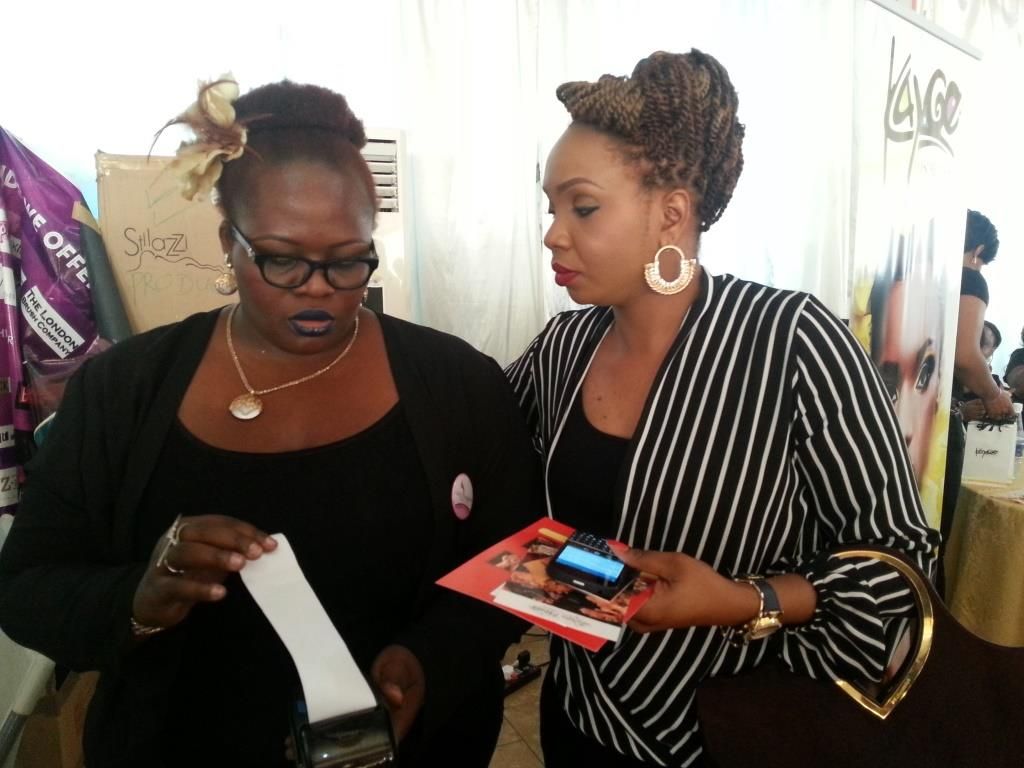 Funke and Eni Lise (I am trying to remember what they were talking about with such serious faces)
Alexia & I - our story is one for another day. But...she was one of the first makeup artists I ever knew personally way back in school and I used to think she was unaccessible and so wasn't close to her. Jeez, how often i learn the lesson to not assume anything about anyone because I am very often proven wrong.
Ashama & I - you have no idea how loudly we screamed when we met Ashama. It is always so wonderful to meet fellow makeup artists who prior to then only made contact with you on social media.
it was lovely to meet you Ashama. Now I am looking forward to meeting Osamu.
Yemisi of N'sure, Funke of Gifty's Daughter and i at LMUF II
The only treat I permitted myself to have - a chocolate and peanut butter cupcake *yum,yum*
swatches of Kayge glosses. I got one and was 'forced' by Kay to pay for another one.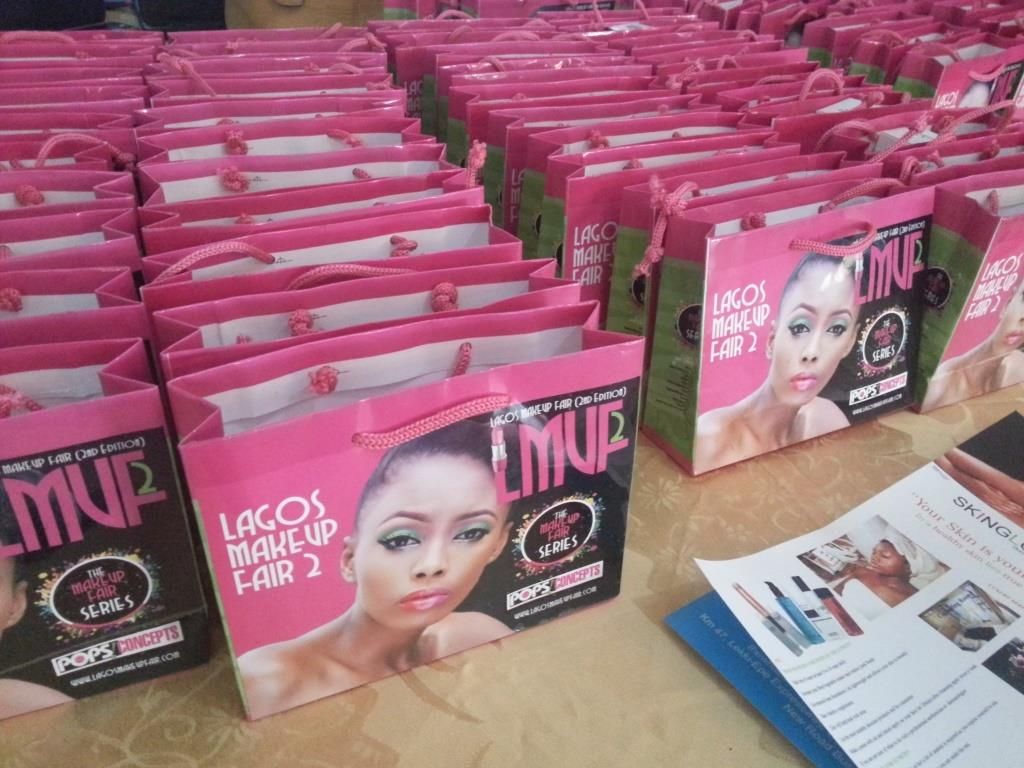 The LMUF II goodie bags.
As you can all see I had a lot of fun at LMUF II.
Like I said earlier I got a lot of free products and no I am not including them in this post because it'll make it too long. But don't despair, I have an LMUF II Goodies post coming up right after my WOWe Conference post (which I have left off for too long)
You can view additional pictures from LMUF
here