Early this year, the city of Lagos rocked with the news of the coming to Nigeria of the makeup giant -
MAC Cosmetics
and all makeup lovers eagerly looked forward to being a part of the revolution.
It was thus no surprise to feel the undertones of excitement when in late January invitations via email were sent to select professional makeup artists in Nigeria to attend the first ever MAC Cosmetics masterclass in Nigeria which was to be taught by the MAC Senior Artist Michelle Lee Collins.
Yours truly was one of those and here is my attendance of the masterclass in pictures.
it was a reunion of sorts for a whole bunch of us as in the rather busy and cosmopolitan city of Lagos it had been a while since we had reconnected.
From the top - Nike Ogungbe of Ewar makeovers (whom I was sooo pleased to finally meet after so long), Kristabel Makeovers (whom I also loved finally meeting for the first time that day), Bimpe Onaloya, Oriton Faloughi (peeping from behind), Lola Maja Okojevoh and Juliette Okoli
Bottom left - Julie of Brushes n Pencils & Oriton; Bottom right - Love Olaleye of Flawless Touch, Omon of Beautycook and Nike of Ewar Makeovers
finger food at the masterclass reception while the seating was still being arranged.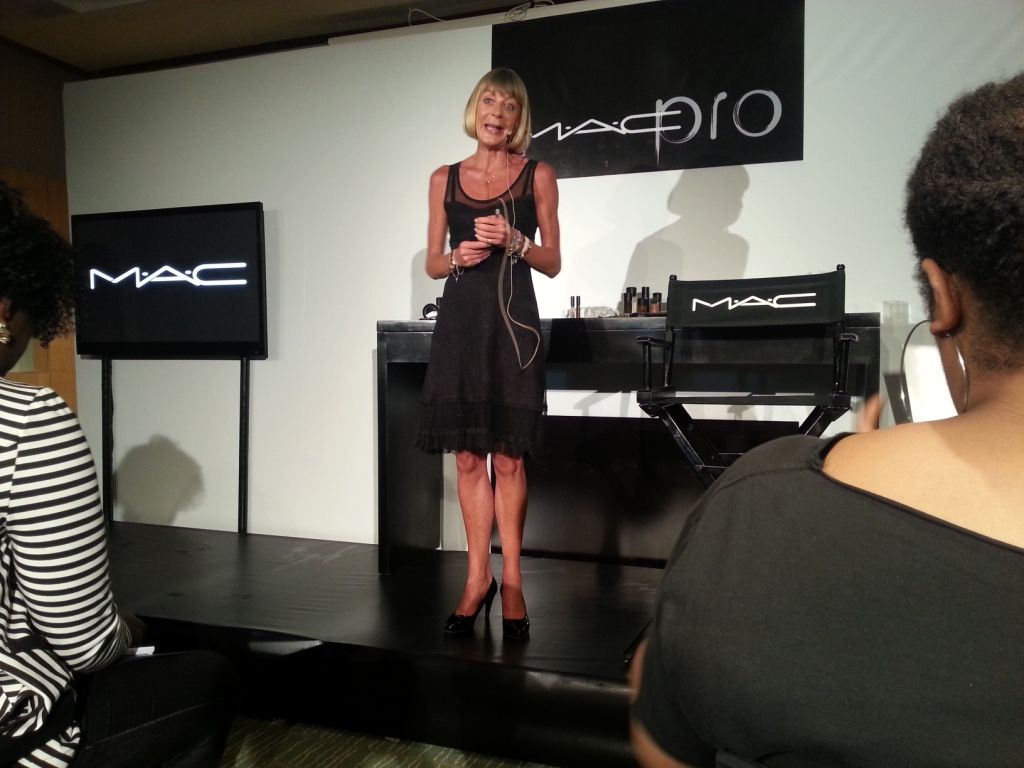 The MAC Cosmetics Nigeria Manager welcoming all of us to the class and introducing Michelle
Michelle Lee Collins (after admiring my brows in the corridor and using it as an example for absolutely gorgeous natural brows, you bet she is my fav MAC Senior Artist for life)
SKIN - Michelle introduced us to the new MAC fast response primer which is the first primer by the brand made for dark skin. It also provides our skin with a natural radiance which is really nice and will totally enhance the light reflecting properties black skin possesses.
Michelle also showed us how she uses the new pro concealer palette and I must say it was hard to keep up with her flicking in and out of the palette onto Moyin's face, lol.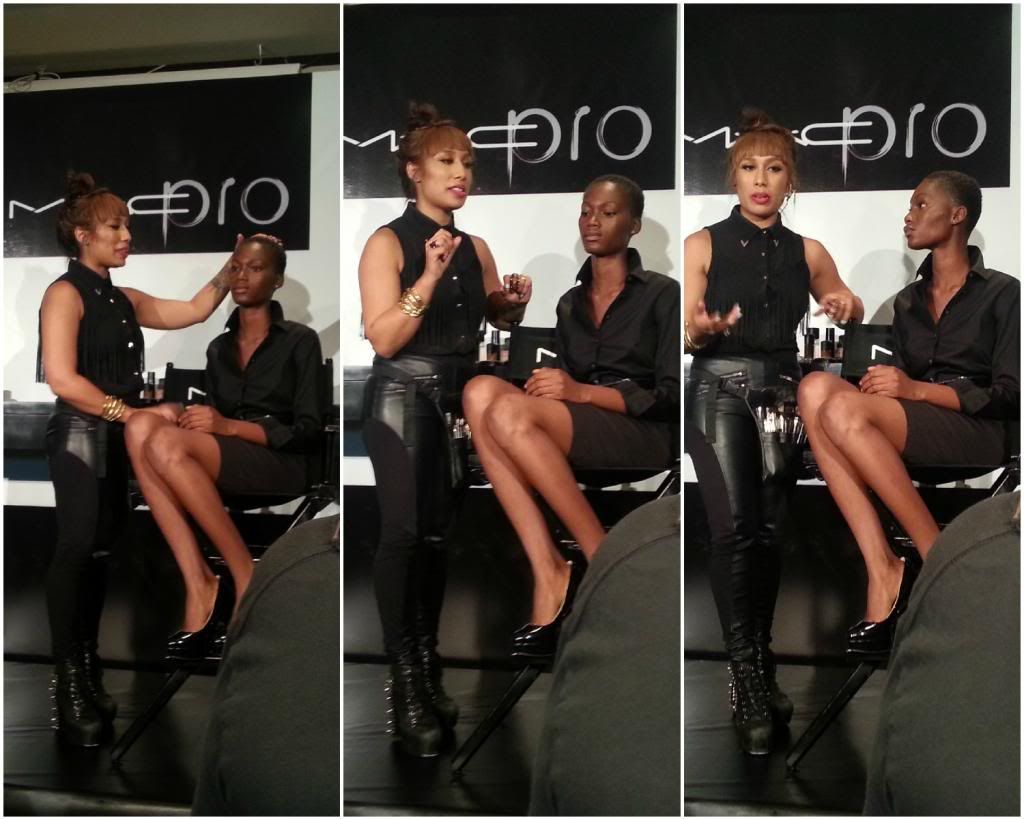 Done with the skin, what next? Michelle did lips before eyes and she talked us through the process of creating a rosebud shaped lip using Ruby Woo and a red blush all from the new range of MAc pro products.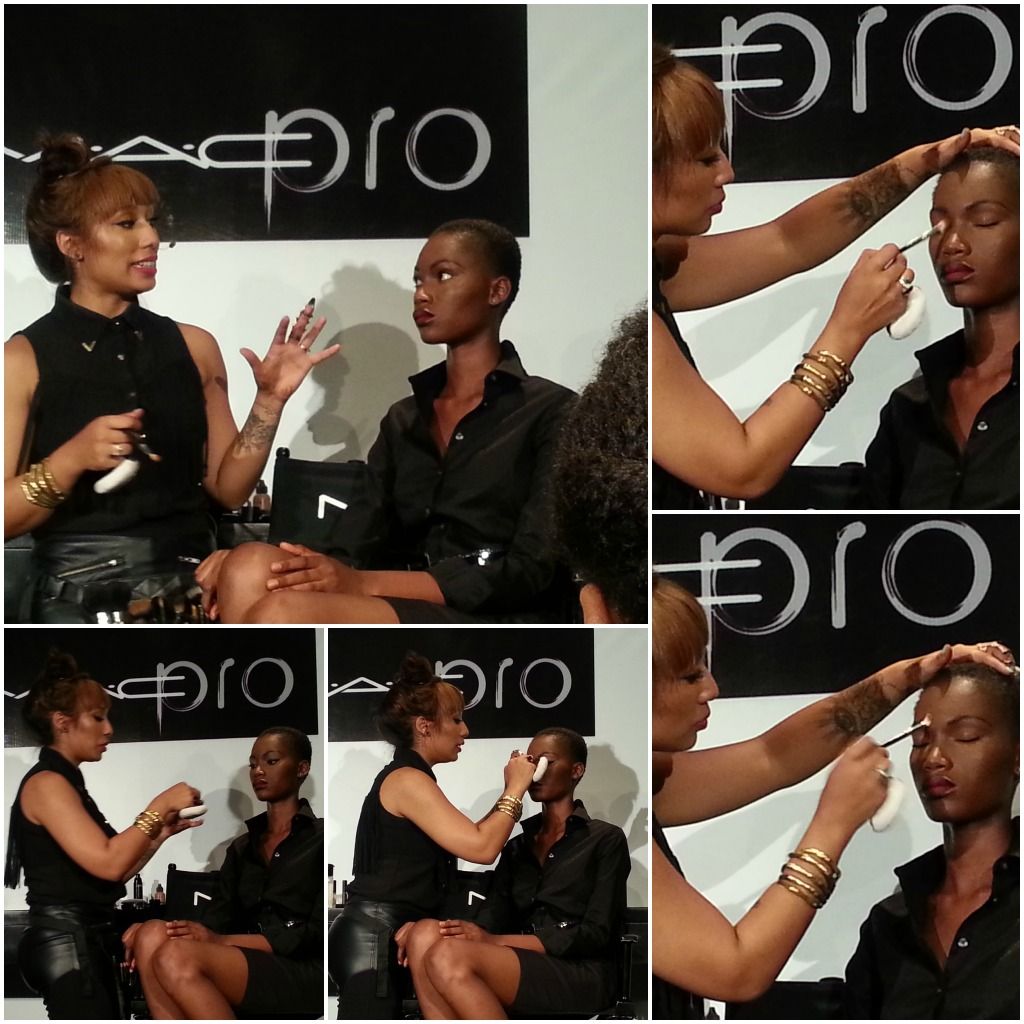 After the lips, Michelle proceeded to doing her own version of the 60s flicked liner and I must say that it was pretty cool. I especially loved when she said the key to a perfect liner is to always trust your hand to do the right thing. She drew a typical rounded 60s brow and considering what we usually do here in Nigeria it looked a whole lot different from the norm here.
Does anyone have any questions?
The finished look. Check out the gorgeous liner and the discreet side line (have you seen it?)
the model and the artist.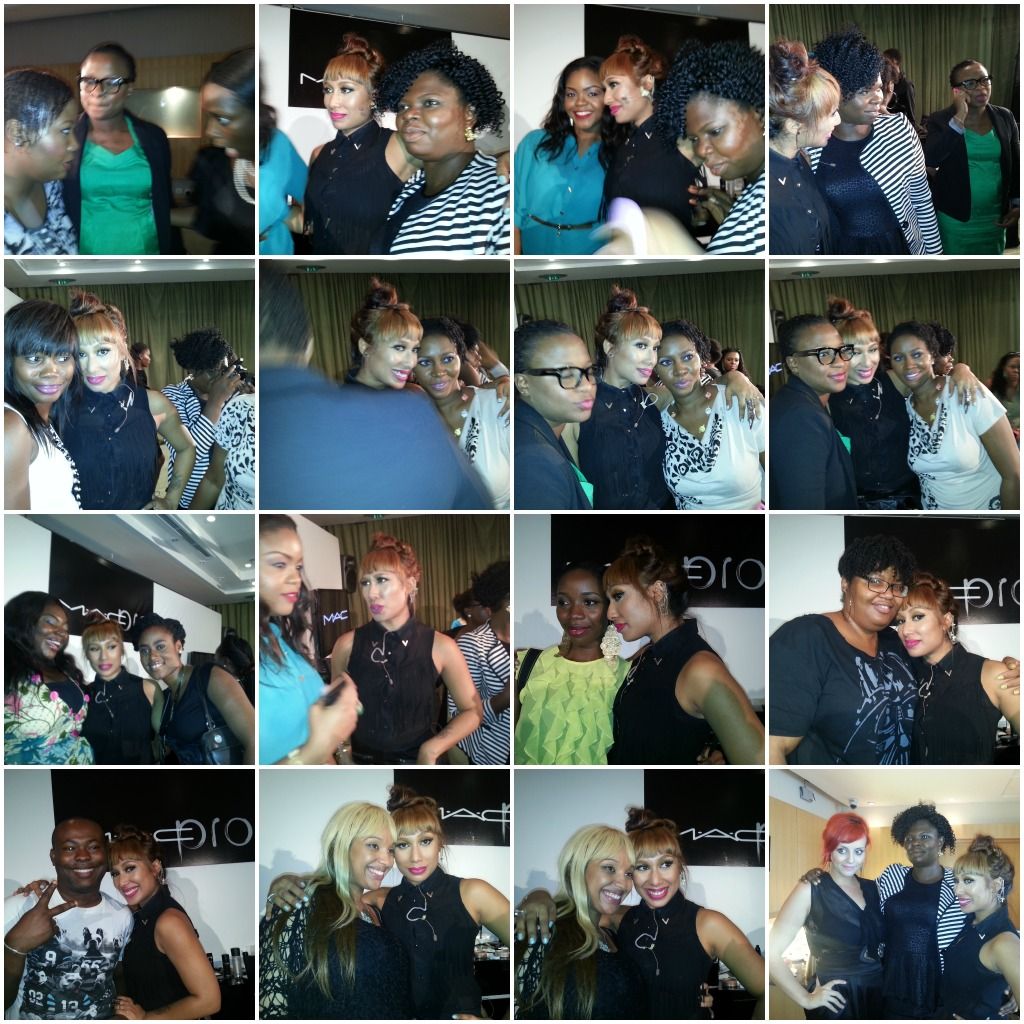 Say Cheese!!!!
Won't even try to start naming everyone here but you can be sure we all clamoured to each have personal pictures with Michelle and she obliged us all which was very sweet of her.
the folder and jotters we got to use for the masterclass. I must say though that we were a whole lot disappointed to not get products to take home with us after the class and with there not being any pro discounts available in Nigeria yet, oh well.....
So I had a lot of fun at the masterclass. Yes this post is way overdue but I am glad I finally got to publish it. I learnt a whole lot of tips from Michelle Lee Collins including how to hold a foundation brush for that soft buffering effect as well as how to create that perfect contour from within look and how not to end up with that over powdered matte look that is common here. MUAs and the general public alike, take note, MATTE SKIN IS NOT TRENDING ANYMORE!
It was also a lot of fun meeting up with everyone again and I look forward to an opportunity to work with the MAC Cosmetics brand in Nigeria.